Gel memory foam mattresses are designed to reduce heat retention issue of foam. Such mattresses are usually much comfortable to sleep.
We've analyzed 1211 reviews of gel memory foam mattresses (read about our accurate unbiased method), and compared them side-by-side, scored according to a range of factors including comfort, pain relief potential, durability, initial odor and heat retention ability.
Below you will find comparison chart(click on the product name to read full review).
Top Rated Gel Memory Foam Mattresses
This style of mattress is one of the newer types of memory foam mattress and is fast becoming the top choice by consumers. The gel is designed to provide a cool surface for you to sleep on comfortably. Before manufacturing the gel is added to the standard memory foam, guaranteeing that it is evenly distributed.
Memory Foam VS Gel Memory Foam
The main differences between memory foam mattresses and gel memory foam is the density of the foam that is in the mattress. This density affects the comfort level and price that is asked for the product.
Are they cool?
Yes, gel memory foam mattresses are cooler than other styles of foam mattress as the cooling gel particles are infused through the mattress.
Safety
As with all memory foam mattresses they are entirely safe, and cannot do harm to you when asleep. In fact, they help with respiratory problems and allergies.
Is it good for your back
This style of mattress is incredibly comfortable, and will help to make sure that you have a decent night's sleep. The style of mattress will mold to your body, and help with any existing complaints that you may have with your neck and back.
Lifespan
You may be surprised to discover how durable the mattress is, and how long it will last. As long as you care for the mattress, keep it clean, and maintain any issues, you will be able to use the same mattress for many years.
How to clean
You must only wipe the surface of the mattress, and never apply too much water to the surface, or you will damage the material.
Can I cut it
It is not advised to cut the gel foam mattress as this will damage both the outer and inner materials, resulting in the mattress being less comfortable.
Advantages
Disadvantages
some models can retain heat
not very durable
the quality can be different from model to model
Product Reviews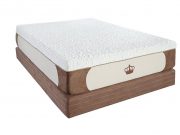 Dynasty Mattress New Cool Breeze 12-Inch Review
Are you looking for a foam mattress that gives you a cool feel during sleep? Then the Dynasty Mattress New Cool Breeze is the right one for you! It is made of a 3-inch gel foam with a 2-inch comfort foam support and a 7-inch high density foam to provide vital base support. It is a mattress with complete versatility that provides not just comfort but also the support to maintain proper body alignment during sleep. It prevents further strains and pains upon waking up.
LUCID by Linenspa 12 inch Review
One of the essential things for a bedroom is the mattress. The bedroom is where you rest after a long exhausting day and the mattress plays a very big role in that. This is why you must be very careful and well informed before investing in one.