We've analyzed 542 reviews of latex pillows (read about our accurate unbiased method), and compared pillows side-by-side, scored them according to a range of factors including comfort, pain relief potential, durability, initial odor and heat retention ability.
Below you will find comparison chart(click on the product name to read full review).
Top Rated Latex Pillows
Latex pillows are made from a natural polymer which is extracted from trees and plants which is formed to make a matrix of tiny bubbles for the filling. This allows the pillow to be incredibly comfortable, and have a unique spring back.
Once you have used this style of pillow you will understand why they are so popular, due to the high comfort levels, and instant bounce back. They do not sink and have far better heat and moisture dissipation. They are also excellent for allergy sufferers and offer ultimate comfort all night, regardless of how you like to sleep.
Usage of the Latex Pillow
Side sleepers will love these pillows as they mold to your shape, and support your neck and head without the need to move and readjust. You will never feel too hot with the latex pillow, and even in the summer months the pillow will remain cool.
You may be concerned that the latex pillow may be too firm; however, they can mold easily to the shape of your neck and head. They are not only eco friendly, but also durable, which them affordable and excellent value for money.
Health and Safety with the Latex Pillow
Latex pillows are safe to use for babies, and more parents are choosing this style of pillow as they are healthy, and do not attract dust mites and bugs. There is nothing toxic about the pillow as the filling is 100% natural.
If you suffer with allergies, you will love these pillows as they are clean, and do not attract dust and dirt. People with neck pains will enjoy sleeping with the latex pillow as it is supportive and soft, relieving pressure from the neck and shoulders.
Lifespan and Cleaning of the Latex Pillow
You need to clean the latex pillow, but it should not be placed in the washer as this can damage the material. At all times, you should cover the pillow with a case that can be washed as this needs to be done regularly.
Hand washing the latex pillow is recommended if you find that it has become stained and dirty. You need to hand wash with mild detergent, and warm water. Once it has been washed, you must allow it to dry naturally, and do not place in the dryer.
If you maintain your latex pillow well, and ensure that you have a cover on it at all times, the lifespan is between 10-15 years. As long as there is nothing wrong with the latex pillow you can keep the original one until it needs replacing. They do not sag, or wear thin, which is why they are highly recommended and incredibly popular.
Product Reviews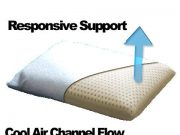 All Natural Latex Pillow Review
As mentioned earlier, the pillow not only provides comfort, it is durable as well. It also does not contain any synthetic additives which are sometimes used by companies to reduce costs and compromise on quality. The latex allows for a cradling effect on the neck while also providing proper support for your back. An organic cotton cover that can be easily washed is another one of the numerous advantages that this pillow provides. The pillow is anti-microbial, which prevents bacteria from growing on the pillow. The improved air circulation lets the pillow remain sweat free as you enjoy a cool, relaxing sleep.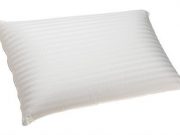 Beautyrest Talalay Latex Pillow Review
The latex foam pillow is perfect for the people who suffer from various allergies as it is completely natural. Furthermore, it has also been proven to be resistant to mites, mold, fungus and bacteria. The pin-hole design of the pillow improves the air circulation and helps regulate the temperature, bringing it down to a more comfortable level. Users have appreciated the tendency of the latex to cradle the head, thereby increasing the relaxation. Many users have compared it favorably with the foam pillows, citing its springiness as a bonus point.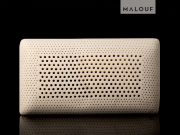 Z by Malouf Natural Talalay Pillow Review
The special zoned technology incorporated in the pillow allows for support as well as comfort via a pin-core design which not only cradles your neck, it provides you shoulders and neck with firm support as well. It further keeps adjusting according to your body movements in order to ensure maximum comfort while being resilient enough to not require consistent fluffing. You can even breathe in the Talalay latex, which helps regulate the temperature and provides you with a comfortable temperature to sleep in. The latex pillow is also resistant to dust mites and bacteria, which makes it a hypoallergenic pillow.