SilentNight memory foam mattresses provide above average pain relief, but have the same issues as memory foam products, mattresses have initial chemical odor and heat retention potential.
We've analyzed 473 reviews of SilentNight mattresses (read about our accurate unbiased method), and compared them side-by-side, scored according to a range of factors including comfort, pain relief potential, durability, initial odor and heat retention ability.
Below you will find comparison chart(click on the product name to read full review).
Top Rated SilentNight Mattresses
Silent Night is the UK's leading brand of mattresses, and the company that is based in Barnoldswick has over 60 years of experience.
Silent Night have a massive array of experience and offer numerous different mattress choices. Their memory foam mattresses are comfortable, affordable and will guarantee that you get decent nights sleep.
How long does it last
On average with the correct care, your mattress should last between eight and ten years.
Advantages
Excellent reputation
Comfortable
Helps with back issues
Disadvantages
Expensive
Sagging in middle
Can smell
Product Reviews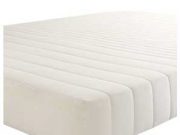 Silentnight 7-Zone Review
The mattress is manufactured by the British company Silentnight , which is over 60 years in the branch and is believed to be the most reliable UK firm. The product is created from memory foam, using the latest technologies and is described as hypoallergenic. The interesting thing is that it is treated with probiotics during the manufacturing process, which ensures a long lifespan of the product, while remaining fresh. The probiotic treatment is simply allowing friendly bacteria forms of life into the material, from which the mattress is made. It also includes a 5 year guarantee and comes with a practical cover.
Silentnight 3-Zone Review
This is another product from the Silentnight manufacturer, which features the same technologies as in the 7-Zone one. It is made from a single layer of memory foam, treated with natural probiotics for outstanding comfort, long lifespan, natural freshness and other effects. The company has over half a century experience in the industry and provides very solid products at a reasonable price. Again it is delivered rolled up, making movement a lot easier and has a 5 year guarantee. The guarantee itself of course takes place only under specific conditions, so be sure to read the policy first.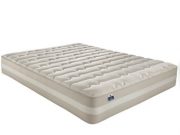 Silentnight Mirapocket London Review
The Silentnight's Mirapocket London Memory Foam Mattress unique feature is its twin layer 2100 Mirapocket advanced pocket spring system combined with 750 intelligent-zoned Miracoil springs and 1350 responsive pocket springs giving the ultimate in support and luxurious comfort. Enjoy edge-to-edge support with its three targeted support zones for the hips and shoulders spinal alignment for a great sleep across the entire mattress. Dust mites are kept at bay with allergens reduced with its Allergy UK approved Purotex cover made up of 100% friendly bacteria that reduces moisture for a drier, mould-free and fresher mattress.