We've analyzed 453 reviews of orthopedic mattresses (read about our accurate unbiased method), and compared them side-by-side, scored according to a range of factors including comfort, pain relief potential, durability, initial odor and heat retention ability.
Below you will find comparison chart(click on the product name to read full review).
Top Ranked Orthopedic Mattresses
An orthopedic mattress is generally chosen by people that need a mattress for deformities and disorders of the joints and spine. This style of mattress has been created to help with many different disorders, and can be beneficial for many people.
If you experience any form of back pain, neck ache, or joint discomfort the orthopedic mattress will be ideal. The mattress is firm, which provides the perfect support in targeted areas, and it is extremely comfortable.
Do Orthopedic Mattresses have springs?
Yes, an orthopedic mattress has springs with a typical spring gauge of 12.5, which is considered to be the firmest you can find. This spring gauge is incredibly durable, and will ensure that your mattress lasts a lifetime.
Orthopedic Mattress VS Memory Foam Mattress
The main difference between these mattresses are the materials that are used to manufacture them as memory foam have no springs and are considered far more hypoallergenic. As with all products some people prefer orthopedic mattresses and other people love the feel of memory foam. Both mattresses have benefits and disadvantages.
Firmness
This style of mattress is extremely firm, and some people find that this can be uncomfortable. However, you can purchase other styles, including pocket sprung and latex orthopedic mattresses, which are softer.
Advantages
Beneficial for back problems
Approved by doctors and specialists
Available in different firmness
Disadvantages
Considered too firm by some people
More expensive
Construction can be hit and miss
Product Reviews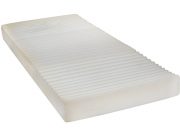 Drive Medical Therapeutic Review
Available in the color White having the dimensions 35 x 80 x 5.5 inches, the Therapeutic 5 Zone is a deluxe horizontal mattress. It has five pressure zones for even distribution of pressure throughout the mattress. The mattress itself is made of cross cut foam. It has a two hundred and ten denier nylon. It is a Medicare coded Group I support mattress and a replacement mattress which can facilitate transfers more easily than overlays. It weighs almost a ten and a half pounds.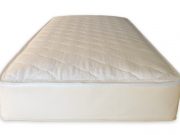 Organic Cotton Two in One Ultra Review
Made of one hundred percent organic cotton and one hundred percent polyethylene, the Two In One Ultra has a two in one design. The top surface can be wiped clean easily and it meets food contact standards while the bottom is made of beautifully quilted organic cotton fabric. It has certified cotton filling with two stage soft and firm thickness. It also has a heavy duty orthopedic innerspring that provides comfort to the children. It is available in two sizes; Twin with three hundred and sixty coils and Full with five hundred and twenty eight coils. The six gauge border wire adds to support.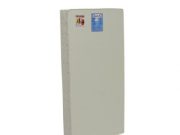 Dream on me orthopedic mattress review
Available in the colors Grey and White, the Dream On Me Toddler is one hundred percent bed bug free. It complies with 16 CFR 1633 flammability standards and fits any regular crib.