We've analyzed 617 reviews of pillow-top mattresses (read about our accurate unbiased method), and compared mattresses side-by-side, scored according to a range of factors including comfort, pain relief potential, durability, initial odor and heat retention ability.
Below you will find comparison chart(click on the product name to read full review).
Top Ranked Pillow-top Mattresses
If you are struggling with your sleep at night, then it is high time you need to change your mattress. For a sound sleep there can't be anything better than pillow-top mattresses. Let us have a brief look on it.
What is it?
A pillow- top mattress comes up with extra foam and padding on is top. In fact, it looks like there is a pillow on the surface of these kinds of mattresses. It is made with memory foam which makes pillow- top mattress not only comfortable but also durable. The spring on it holds the foam with it. Feathers, polyesters, wool, and latex foam are used to make a perfect Pillow- Top mattress.
Is it for you?
If you are going through back, and neck pain or you woke up from bed with aches, then pillow- top mattress is certainly for you. It is not only going to give you peaceful sleep but also will relief you from unwanted pains. Again, it might not be the perfect mattress for your toddler. According to research some toddlers are comfortable with pillow- top mattress and some are not!
Firmness:
The additional layer of foam makes pillow- top mattress is firm but selling point of the pillow makes it soft and comfortable.
Size and Thickness:
The standard dimension of king sized Pillow- top mattress is 76*80 inches. The dimension of queen, full and twin sized is 60*80, 53*75, and 38*75 respectively. It can be thick up to 3-5 inches. Thick mattress will make you hot and sweat.
Pads, Special Sheets and Boxspring:
There is no need of pads on a pillow top mattress. In fact, it will reduce the comfort level. Pillow top mattresses comes if different size so they do need special sheets. There is no need of boxspring for these mattresses. By keeping it on floor you can sleep without any irritation.
Health Benefits:
Reducing Back Pain:
Pillow top mattress has been proved effective for the people with back pain. There is no complaint of causing back pain and shoulder pain after using this mattress. You can also consult your doctor before start sleeping on this mattress.
Sleeping Disorder and Sleeping Position:
Pillow- top mattresses reduce sleeping disorder. The mattress is so soft that it can suite any sleeping position without causing any pain.
Longevity:
Pillow- Top mattresses can certainly be the thing that your body needs for a perfect sleep. Statistically most of the people use it for 1-5 years without any problems. There are some people who are using pillow- top mattress for more than 10 years. Long use may develop lumps on it.
Advantages:
Very soft and comfortable
Reduces back and shoulder pain
More durable
Sleeping friendly
Disadvantages:
May not suite for toddlers
Price is quite high
May feel hot
So, if you are looking for looking for a perfect mattress for you then pillow -top mattress can be the one that will give you a pain less, fear less, and a peaceful sleep.
Product Reviews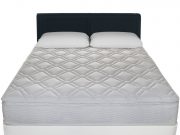 Sleep Master 10 Inch Pillow Top Review
Available in sizes Twin, King, Full and Queen, the Sleep Master pocketed spring mattress is a pillow-top mattress that offers medium firm support. The pillow-top has quilted fiber padding with a one inch super soft foam designed for your comfort and luxury. The coil spring technology of collaborating heavy gauge metal springs with soft foam provides durable sleep to anyone. The cover fabric is a polyester jacquard which is smooth and just right from the very first touch.