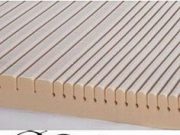 Beautyrest GeoMatt Therapeutic Foam Mattress Pad is a product of Beautyrest, a popular US bedding brand. This high quality mattress topper is used in more than 10,000 medical facilities. The toppers consists of "rings of air" to promote airflow in order to reduce heat build-up, and gives optimal support and comfort to the body. The 3.5-inch thick topper is prepared by computerized equipment that cuts the polyurethane foam into small cubes undercut with open channels.
The individual cubes helps surface to conform to the body and give enhanced sleep support. The geometric pattern of small cubes is designed to redistribute body pressure across the whole foam surface. The individually articulated cells go through 800 precision-cut and are divided into three zones. Smaller cell zones provide contoured support to head while larger cells give comfort to lower body. The product is available in just one size: 74" x 75" and weighs 18 pounds.
Pros
Customers looked happy with this uniquely designed therapeutic mattress topper and the level of comfort it provides. Unlike memory foam, this product gives different and much better sleep experience and customers feel refreshed and energetic when they wake up. This mattress topper has no smell like ordinary memory foams have. The therapeutic mattress topper is ideal for arthritis patients as many of them found it highly comforting.
Cons
Apart from so many benefits of GeoMatt Therapeutic Mattress Pad, few customers pointed out that the foam does not loose its poyfoam odor. A customer pointed out that the size of the mattress pad can make it difficult to completely cover it with a sheet.
Conclusion
Beautyrest GeoMatt Therapeutic Foam Mattress Pad appears to be quite successful product as wide majority of customers finds it a lot more comfortable than memory foam toppers. GeoMatt mattress pad is low in price, has no firmness issues and gives instant comfort. Although it does have odor issue, but customers don't think its really causing them trouble.