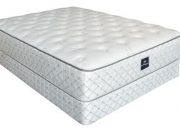 Serta Perfect Sleeper is yet another masterpiece from Serta's showcase. The mattress is designed to ensure perfect midnight's sleep. The mattress is a three layered design, guaranteed to improve sleeping experience by tackling five major sleeping problems. Its firm and supportive design helps reduce tossing and turning while also providing necessary back support and body alignment.
The mattress has a motion absorbing design to avoid disturbance from movement. Efficient ventilation in the mattress keeps the temperature moderate. Sag resistant design with a unique edge roll off avoidance mattress provides the most refreshing sleep for a better daytime performance.
Praises
The mattress has been appreciated by most users. Customers have admired the durability of the product. People having back aches believe they have found a remedy to their problems. Buyers claim that the mattress is firm yet comfortable to allow them a perfect sleep. Users have vowed to continue with the product for years to come and complimented that the mattress is affordable.
Complains
Not too many complains could be gathered regarding the product as the general vibe suggests that the mattress is well received by the users. However, few customers have objected that the mattress was not as firm as they expected. The mattress has also been complained for sagging in the middle. Users suggested that flipping the mattress could have helped reduce the issue.
Conclusion
Serta Perfect Sleeper is a delight for firm mattress lovers. Its unique design addresses five common sleeping problems which makes it a much wanted sleeping commodity. Durable and supportive foam with body adjusting, motion absorbing, sagging and roll off resistant design has been widely accepted by users.
The mattress is available in adjustable foundations to reduce snoring and provide neck and back pain relief while also improving the air circulation. The mattress is available for order on the official Serta website.