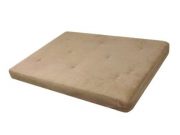 The 6-inch futon mattress is designed to provide customers with the ultimate comfort and support. The mattress is manufactured by Signature Sleep, a well reputed bedding brand.
The coils and covers are separated by polyester layering which ensures that users get a good night sleep. It can easily fit a standard size futon frame. Weighing around 54 pounds, this is certainly a lightweight mattress which is easy to handle and move. The mattress is fitted with 6 inch coils with microfiber mattress cover.
Praises
Lots of reviews mentioned the fact that it was delivered to them pretty quickly and the packaging was also very impressive. Many customers said that the mattress was extremely comfortable. A lot of consumers said that the quality of the product did justice to the price for which it was available in the market.
According to a customer review, the mattress is very easy to clean and move around. There were also lots of praises regarding the size of the bed as it can easily accommodate any person. The mattress is also easy to fit in futon and fold comfortably.
Complaints
Although the mattress is known to give more for less, there were still some complaints. Many customers said that the mattress had a bad smell but others said they did not smell anything at all. There were some complaints regarding lack of comfort and back pain. One customer said that the bed mattress left its color on the pillow and he had no idea how to take that off. Also, some of the customers said that it does not stand amongst the most comfortable mattresses. Some of the reviews mentioned that the mattress was actually very hard to bend.
Conclusion
Majority of the reviews, however, were in favor of the mattress. The customers were particularly impressed by the quality they got for an affordable price and most of them highly recommended others to buy the mattress.
The mattress is also easy to fit in the futon and easy to move around due to its light weight. All in all, the affordable prices and an overwhelming recognition by customers makes it a must to try mattress.