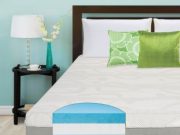 ComforPedic 4-Inch Sculpted Gel Memory Foam Mattress Topper is the product of Beautyrest. ComforPedic comes with revolutionary gel infused memory foam. The dual-sided design makes the topper an ultimate choice for soothing and restful sleep. The gel keeps the body cool by absorbing the body pressure and channeling the heat away from the places where the body is in contact with the foam.
The memory foam comes with polysilk cover to give a restful sleep experience. The whole product weighs around 14.6 pounds. Initially the memory foam topper may feel firm but eventually, the body will get used to it. The memory foam topper is available in Queen size and is quite within the reach of customers.
Pros
According to the customer, ComforPedic 4-Inch Sculpted Mattress Topper works absolutely perfectly for him. The product appears to be cheap for the customers who use it on an old mattress, yet it gives exceptional results. With some initial problems, customers found the topper amazingly soft and comfortable for a nice sleep. A customer suffering from a chronic pain and arthritis, says that ComforPedic Topper by Beautyrest seems perfect choice to get a painless and uninterrupted sleep.
Cons
One of the customers mentioned that the memory foam mattress topper may take a week to loose its chemical gas and odor. Some customers pointed out that the polysilk cover wasn't like the one shown in the picture. In general, customers have said that the topper may take a month to loose its firmness.
Conclusion
ComforPedic 4-Inch Sculpted Gel Memory Foam Topper with Polysilk Cover is a product of a bedding brand, Beautyrest. This product has received a large number of positive customer reviews who appreciated its softness and high level of comfort. Customers have no overheating or sweating issues, but the mentioned that the product may take a month or two to adjust. In general, the topper appears to be cheap and worth buying.